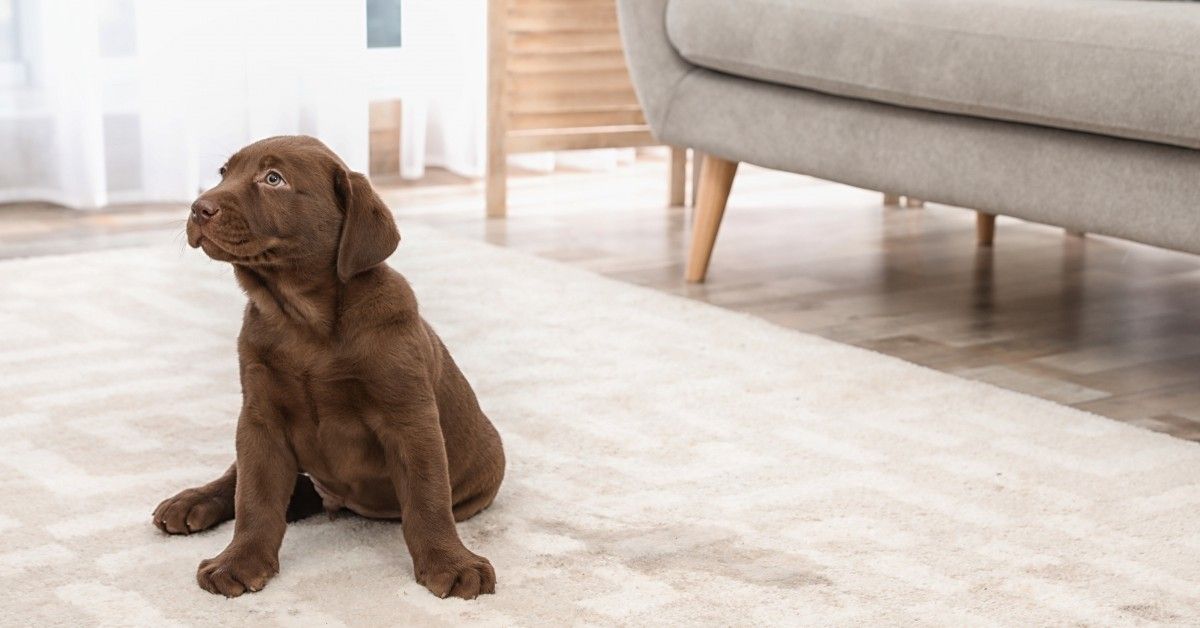 Tips For Preparing For a Pet Sitter
Having a pet around the house is fun and allows you to always have a companion nearby. Your pet likely loves spending as much time with you as you do with them, making it the perfect bond. But when you need to go out of town, figuring out what to do with your pet can be a challenge. Whether you are going to be gone for only a night or for an entire week, finding someone to care for your pet is important.
You obviously want the best for your pet. Finding a pet sitter that will spend time with them, ensure they have everything they need, and clean up after them can be a challenge. While friends and family members could watch your pet, they have jobs and lives of their own. That is where Paws Up Pet Sitting comes in! Our job is to provide you with the best pet sitting services possible and give your furry friend everything they need while you are away. Whether you just need us to check in on your pet or you need someone to stay overnight with them, we have you covered!
In this blog, we wanted to talk about some ways you can prep for a pet sitter. Read on to learn more and contact Paws Up Pet Sitting in Medford today to get started!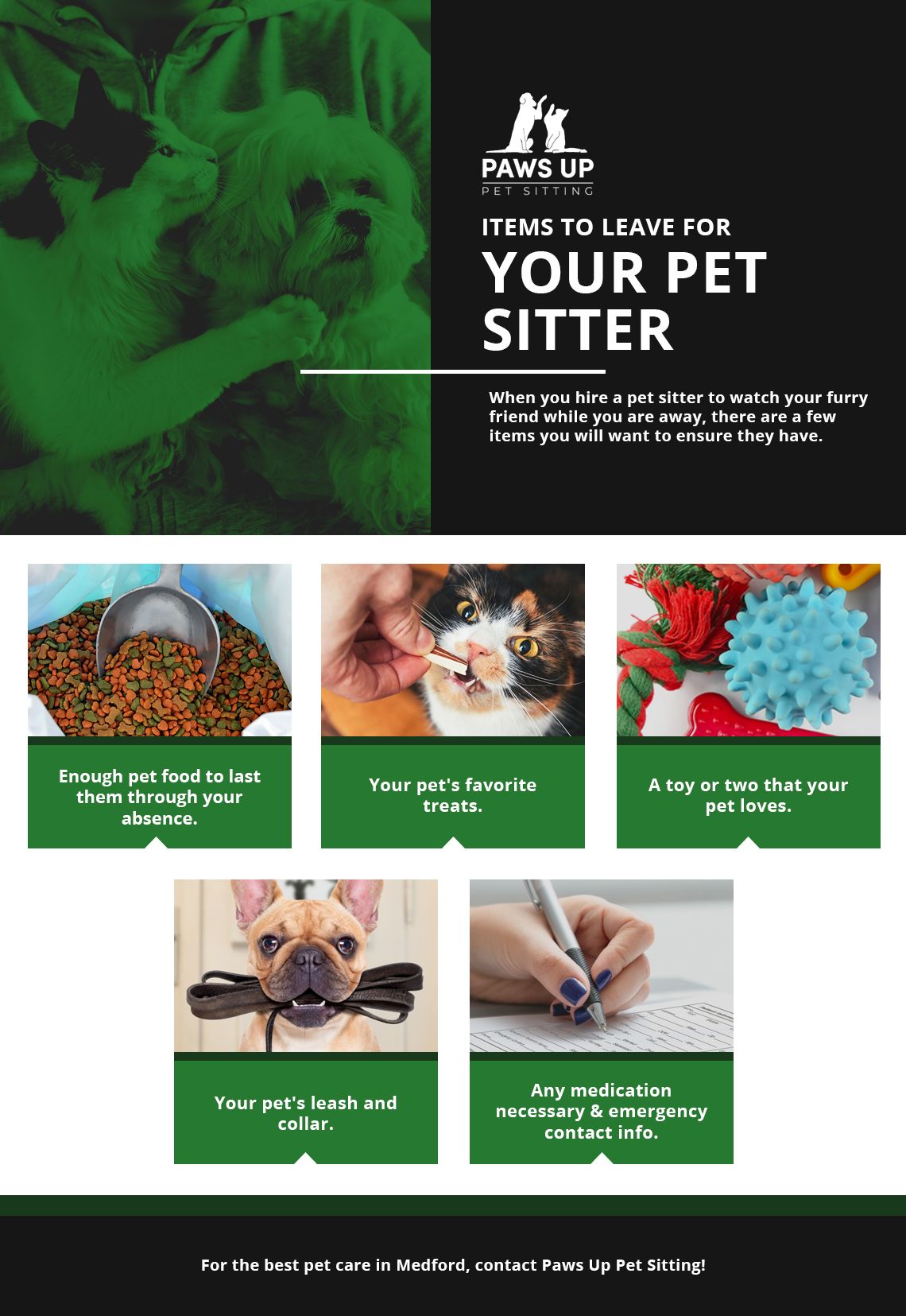 Make Pet Supplies Easy to Find
To make life easier for your pet sitter, leaving all of your pet supplies in plain sight or in an easy to find space can help. While you can leave a clear set of instructions listing where all of these items are, it may be beneficial just to leave them all out. This way, your sitter doesn't have to spend time searching for their leash, food, treats, medication, or anything else they may need. If you are worried about leaving your pet's food bag on the counter because they may get into it, just be sure to mention where it is stored in your list of instructions.
Ensure Pet Supplies Are Fully Stocked
It is also important that you ensure your pet supplies are fully stocked. That last thing you want to do is leave for a week with only a day's worth of food left for your pet. While your sitter can always go out and pick up some more, it will be easier for everyone if you ensure you have enough for the time you will be away. This goes for medications, treats, and anything else your pet may need as well. By stocking up, your pet sitter will be able to give your furry friend more attention rather than running around restocking pet supplies for you.
Leave Instructions
Instructions are always helpful for pet sitters. Even if it is as simple as listing where the pet supplies are, a list of instructions can make the process easier and ensure nothing goes wrong. You will definitely want to leave a list of instructions if your pet needs to take medications or have special care requirements that need to be followed. When creating your instructions, it can be helpful to note stuff such as if your dog is scared of the dark and needs a light on at night, that your cat is allowed outside but to ensure their collar is on first, or which areas of the home your pet isn't allowed in. These instructions can help ensure that the pet sitting goes smoothly and allows your sitter to make sure they are covering all the bases.
Pet Proof Your Home
When you are not home to give your pet constant attention, they are likely to get bored and may become more mischievous than usual. For this reason, it is beneficial for you and your sitter to pet-proof the home before leaving. This can include shutting toilet lids, closing cupboards, ensuring rooms and closets are closed that your pet doesn't need to be in, and picking up items that you don't want to be torn up or messed with. By walking through your home and making sure that everything is closed off or put away, you can prevent your pet from making a mess or getting into trouble so that neither you nor your pet sitter will have to deal with it.
Block Off Rooms
As we just mentioned, blocking off rooms your pet doesn't need to be in can help ensure that they do not get into trouble. Close off extra bedrooms, closets, bathrooms, and other rooms that your pet doesn't need to be in and doesn't like to be in. If your cat likes to spend time sleeping in your child's bed, it might be a good idea to leave their door open. Since you will be gone, your pet will likely already be confused, but when you also take away their favorite sleeping spot, they may become even more nervous.
Set The Thermostat
One important thing to remember is to set the thermostat. Many people change their thermostat when they go on vacation to save some money. What's the point of heating or cooling a home that you aren't going to be in for a while? However, if your pet is home, it is important that you keep the thermostat at a comfortable temperature for them. Whether your pet sitter is just checking in from time to time or staying overnight with your pet, you will want to keep your pet's comfort in mind when setting the temperature in your home before leaving. If your dog runs hot, you can drop it a few degrees to ensure they don't overheat in the afternoon sun. You can also leave a note in your instructions to set the thermostat at a certain temperature at night and during the day.
Schedule a Consultation
To get started with Paws Up Pet Sitting, you will want to schedule a free consultation with our pet-loving caregivers. During this time we will meet your animal, discuss any specific needs such as feeding instructions and medication requirements, and go over anything else that your pet will need while you are away. These consultations allow us to learn everything we need to know about your pet, as well as get to know you and your furry friend. It is also important to plan in advance. If you know you are going out of town in a month, don't hesitate to schedule your consultation and hire us as your pet sitters! The sooner you book us the better.
We hope these tips help you prepare for the next time you go out of town and need a pet sitter! Preparing your home can make it easier for you, your pet, and the sitter to get through your absence without any problems! Our team at Paws Up Pet Sitting in Medford is passionate about caring for pets and can help keep your pet safe, happy, and properly cared for while you are away. Contact us to learn more and schedule your free consultation today!